Left Manaus we directed to Iguaçu to visit the famous falls on the border between Brazil, Argentina and Paraguay. During the landing the lightning I saw from the window didn't promise anything of good, as shown the following morning we waked up under a thunderstorm. 
We started the visit from the Argentine side of the falls that we reached in around 45 minutes by car, this side is noted for its close-up views of the falls and the forest through a series of walks.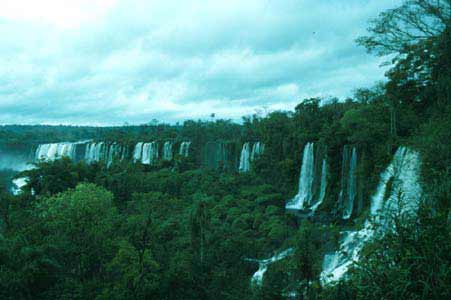 | | |
| --- | --- |
| Fortunately in this first line we had no rain; the walk is absolutely spectacular with amazing sights, besides the roar of the falls the verses of parrots and toucans can be hear; the temerarious can ride with a hair-rising boat under the most impressive fall: The Garganta do Diablo. | |
Came back on the Brazilian side we started the walk that hands really above the falls but at those time started to rain in torrents, so that at the end of the tour also having the raincoats we were completely soaked of water. Even if the visit had spoiled for the weather, was absolutely exceptional and I intended to return to take photos in a beautiful sunny day.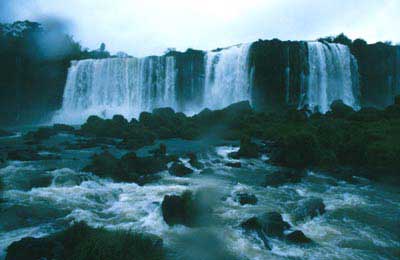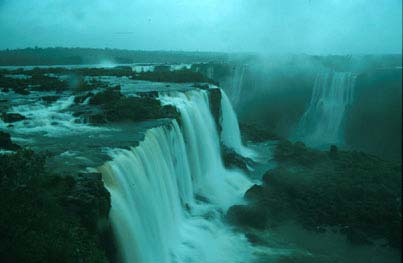 From Iguaçu in a pair of hours of airplane we reached the fantastic Rio de Janeiro; at the airport exit we found our friend Sheila to wait for us, thanks to her even if we had few days, we succeeded in visiting the most interesting places in this wonderful city. Before reaching the hotel we have done a stroll by night of the city by car and the whole atmosphere did not seemed me so dangerous as described by so many guides.
Surely the places that have liked me more are the Corcovado and the Pão de Açùcar from which is enjoyed a fantastic sight of the city, of the beaches and of the hills.
| | |
| --- | --- |
| We reached the Corcovado by car following the road that arrives until under the statue of the Cristo Rendentor, even if the sky was a little bit covered I took a lot of photos of all the zones of the city. | |
The Pão de Açùcar is reached with a two-stage cable car, near the second embarking we were bombed by the flashes of some photographers, to the return we found our beautiful faces on the flat souvenirs that the photographers tried in all the ways to sell us.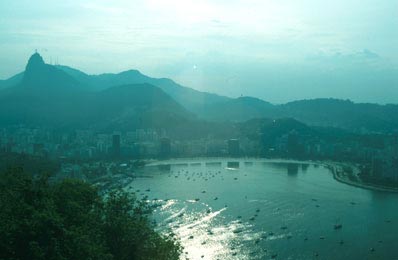 In the evening we went with our Brazilian friends in what probably has been the best restaurant of the whole trip: the churrascaria Porcao where between a Caipirinha and the other one we tasted some good barbecued meat.